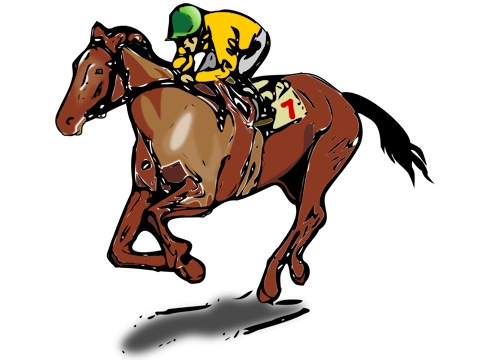 27.12.2021
- Australia is home to a ton of horseraces and a nation of avid fans. Read this article if you want to know the ten that stand out the most.
With hundreds of races and wagering turnovers by the tens of billions, horse racing is a wildly popular pastime in Australia. It's home to hundreds of racecourses, more than any other country, and attracts viewers by the millions. Below are ten races that best represent thoroughbred racing in the Land Down Under (in no particular order):
1. Melbourne Cup
One can't possibly claim to be an avid fan of horseracing without knowing about the Melbourne Cup, the country's largest race. From its inaugural race in 1861, which attracted 4,000 people, this event now easily accomplishes six-figure attendance every year. The crowd gets so huge that the race organizers in 2007 capped attendance at 120,000 to keep it manageable. (1)
The prize money isn't something to scoff at, either. The recently-concluded 2021 season paid out a record AUD$8 million, with first-place taking home AUD$4.4 million. Indeed, the Melbourne Cup is, as one news article puts it, 'the race that stops a nation.'
2. All-Star Mile
Although only about to turn four next year, the All-Star Mile has gained a significant following. Taking its inspiration from Japan's Arima Kinen, the All-Star Mile decides the starters through popular votes. It's the first of its kind in Australia, allowing the public to be more involved.
The All-Star Mile rotates courses annually––among Flemington, Caulfield, and The Valley. It also boasts having the largest prize money in a mile-long race, with a pot of AUD$5 million. You can learn more by visiting sites like
https://www.punters.com.au/races/all-star-mile/
.
3. Caulfield Cup
A couple of races often happen in the run-up to the Melbourne Cup; one of these is the Caulfield Cup. It's somehow as old as the Melbourne Cup, having run its inaugural race in 1879. This race gives fans a taste of what's to come in the country's most famous race. It has a total prize pot of AUD$5 million, with the winner taking home AUD$3 million. (2)
4. W.S. Cox Plate
Widely regarded among the more avid fanbase as the premier weight-for-age championship, the W.S. Cox Plate is the stage for Australia's best thoroughbreds. Since its inaugural run in 1922, the race has produced legends like Winx, who retired with 37 first-place wins that included back-to-back Cox Plate victories from 2015 to 2018. (3)
5. Golden Slipper
Australian thoroughbred racing offers several races for fillies (horses no older than four years) the most prominent being the Golden Slipper. Open to two-year-old horses, this race has the largest payout of its kind at AUD$3.5 million, with the winner earning AUD$2 million.
Owners and trainers often get excited whenever such competitions are just around the corner. After all, they give the fillies much-needed experience before racing against the older horses. You can visit sites like
https://www.punters.com.au/races/golden-slipper/
to learn more.
6. Victoria Derby
The Victoria Derby is arguably the toughest test of endurance for three-year-old fillies. The race involves running the entire length of 2.5 km, one of two Derbys to have such a course. It's also one of several races held in the run-up to the Melbourne Cup.
Aside from being older than the Melbourne Cup (first run in 1855), the Victoria Derby has one more important distinction. Only one horse has scored a back-to-back victory throughout the race's
history
, which happened in 1867 and 1868. (4)
7. Golden Eagle
Along with the Golden Slipper and the 1.2-km Golden Rose, the Golden Eagle is part of a series of races. Like the All-Star Mile, this event first ran in 2019 with the purpose of having a race for four-year-old horses. This trifecta of races also urges owners to keep racing their thoroughbreds from their filly days. (5)
For a horse to earn a 'Golden slam' victory is an honor, as it means it has won all three Golden-series races. Apart from the AUD$3.69 million first-place prize in the Golden Eagle, its owner will get an additional AUD$5 million. This high payout has horseracing channels like
https://www.youtube.com/c/PuntersAustralia
reporting such victories. (5)
8. The Everest
With a total payout of AUD$15 million, the winner taking home AUD$6.2 million, this on-turf horserace dwarfs any other race in the country in prize money. In fact, it was designed to rival the Melbourne Cup, quickly rising to second-place prominence despite only starting in 2017.
9. Queen Elizabeth Stakes
Open to horses at least three years old, the Queen Elizabeth Stakes is a big name in the racing scene due to the big-name horses winning it. One of which is Addeybb, the first horse to
win back-to-back
since Winx's retirement.
10. Magic Millions Carnival
This two-week event on Queensland's Gold Coast consists of two big-name races: the Magic Millions 2yo Classic and the Magic Millions 3yo Trophy. However, the races are only open to thoroughbreds bought via the Magic Millions auction system.
Conclusion
Always remember that if you want to place your bets on any of these races, have due diligence. It's always best not to get too carried away as you may end up not enjoying these anticipated events. At the end of the day, the main purpose of these events is always to gather like-minded individuals to form new bonds.
Resources