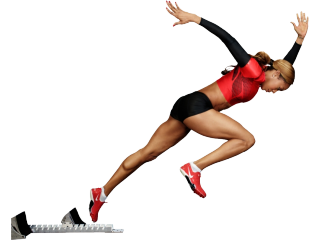 19.07.2021
- Although it's been delayed by a year, the branding remains unaltered and the Tokyo 2020 games are about to get underway. The 32nd summer Olympics begins on July 23rd and the action will draw to a close just over two weeks later on August 8th.
Organisers are expecting over 11,000 athletes from 205 countries to attend in a location that has previously hosted the games with great success. Despite the challenges, the organisers are set to deliver an unforgettable Olympics with world class sporting action across the 17 days.
Naturally, some athletes will meet their destiny and provide some of the most memorable moments in the history of the games. Here are some of the men and women who are tipped to stand out at Tokyo 2020.
Eliud Kipchoge
The only man in history to run a marathon in under two hours, Kenya's Eliud Kipchoge is a phenomenon in this discipline. He's also the reigning Olympic champion in this event and each
sportsbook
quoting markets for the marathon will list the 36 year old as a likely favorite this time.
He may be reaching the veteran stage of his career but Kipchoge is literally showing no signs of slowing down. He has a philosophical outlook on sport and life and he could yet deliver the first sub-two hour marathon at an Olympic Games.
Laura Kenny
British athletes have dominated the cycling events at recent games and that pattern looks set to continue in Tokyo. One cyclist who has already made an impact in previous Olympics is Laura Kenny and she's expected to be an even greater force in 2021.
Readers may know her by her maiden name of Laura Trott. She's now married to fellow cyclist Jason Kenny and will compete in her third Olympiad this summer. Kenny won four golds, spread across two games in
London
and Rio but experts expect her to add three to that total in 2021. She has her sights set on top spot in the omnium, team pursuit and the madison.
A total of seven gold medals would put Laura Kenny at the top of the British list in terms of Olympic success. No other British cyclist has achieved that level and it would potentially mark her as the greatest of all time.
Simone Biles
In an age where many gymnasts are put in the veteran class by the time they are 20, Simone Biles is something of an anomaly. She first burst onto the scene as a 16 year old at Rio in 2016 and has since become something of a celebrity and role model.
Despite having a high profile away from sport, Biles remains seriously competitive and she picked up no fewer than five gold medals at the most recent 2019 World Championships. It's incredible to think that she would be the oldest woman in fifty years to win gold in the all-around but that would be a remarkable achievement for an athlete who shows no signs of slowing down.
Christian Coleman
For many sports fans, the Olympics only really begin when the athletics gets underway in the second week of competition. Within the track and field events, the men's 100 metre sprint is the pinnacle where the battle is on to be recognised as the fastest human on earth.
Athletes are also competing to get on an
illustrious list
of sprinters who are among the most memorable olympic figures of all time. Jesse Owens, Carl Lewis, Valeriy Borzov and the incomparable Usain Bolt are four of the names on that list and the man most likely to join them is Christian Coleman.
The United States runner is the reigning world champion in this event, having returned a personal best time of 9.76 seconds in Doha last year. Former champion Justin Gatlin is also in contention but Coleman appears to be the man most likely to write his name into the history books.
Rohan Dennis
Great Britain may have dominated most cycling events at recent games but Australia's Rohan Dennis can play his part in ending a monopoly. He's a figure who splits opinion, having
walked out
on his team part-way through the Tour de France but there's no doubting his ability.
Dennis competes in Road Cycling where competitors are up against the clock and he's excelled in these types of events in the past. He is the reigning world time trial champion having successfully defended his title last September and he's set to make a mark in Tokyo this summer.
Bryson DeChambeau
Japanese sports fans love their golf so they are certain to give America's Bryson DeChambeau a warm welcome. The man known as The Scientist hits the ball further than any player on the professional tours right now and the courses around the world just aren't big enough to live with him.
DeChambeau will stand out in Tokyo for his novelty value if nothing else but a record of nine professional wins suggests he has the game to claim gold. Those victories include a Major success at the 2020 US Open so he knows what it takes to get over the line on the biggest stages.
It's going to be a fascinating 17 days of action when the Tokyo Olympics finally gets underway. We're certain to witness some unforgettable moments and these athletes are the ones most likely to deliver the lasting memories.