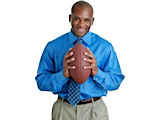 18.12.2020
- Some people complain that it takes a lot to successfully play a sport manager game. But it is not true. There are online games which do not require so much attention and so much to start being successful.
There are online games where you can just simply come, quickly register, do just a little bit small effort and you can have fun with people like you. It is like playing a
$1 deposit casino
game. Starting investment is very low, in the case of a casino you just need 1 dollar deposit, in the case of a sports management game it is little effort to become competitive. And then? Let's go baby!
So here are some examples - list of games we have here in our directory.
Hattrick.org
I start with this legendary soccer game which was created about 23 years ago. There are thousands of manaders still playing the game and thousands are joining all the time. After quick registration you get your team stacked with players and whatever you need for the beginning of your managerial career.
Your team is assigned in low leagues and there are teams as strong as yours. If you set up your match tactics better than your opponents you have a high chance to win. And after a few successful seasons when you keep winning and improving your team you will find your team in a much better league playing against much stronger competitions. And if you keep playing for much longer you might become one of the big guns.
My Racing Career
This is another great example. MyRacingCareer.com is an online motorsport manager game. You take a role of a driver manager and you lead his way through his career from the beginnings. Train him, sign sponsors, sign up for races and series, select cars and so on. You can start with rookies the same as you, and with good results your prestige raises, you sign better sponsors, train with more skilled coaches and improve skills.
It is very similar to real life motorsport. If you want to compete with the big guns you need to improve your driver and get invitations to better races. It becomes tougher and tougher to get there from the bottom of the racing world where it is pretty simple.
Compare games
These are two basic types of online sport management games. Those where you take role of a team manager are more usual. Building a team is very interesting and you also fall in love with your most talented players you grew from youth player to the key player of your team.
Those where you take care of a driver or player career are little bit simpler to manage because you handle just one person but the simulation is usually more detailed.
Many others
There are many other online management games similar to mentioned ones. Just select a sport which you like the most and then pick one of the games from our directory. We have soccer, american football, motorsport, F1, basketball, baseball, ice hockey, horse racing, volleyball, handball, cycling and also boxing games... We strongly recommend to pick the game with high rating which is based on votes from our users.
Offline Games
All mentioned games above were browser based games. These games are usually free to play with possibility to purchase supporter package but it is not obligatory. But there are stand-alone games. You need to purchase them first and install to your personal computer. They of course require much higher starting investment. They are also much more detailed and the gameplay if very realistic.