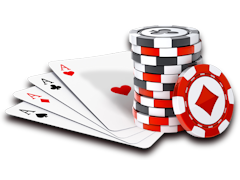 02.01.2023
- While some people do not consider gambling a sport, others compare it to football, basketball, tennis, and other sports disciplines. If slot machines bear little resemblance to sports, then card games have much in common. This is especially true of poker – even experts call this discipline a sport.
Poker is attracting more and more fans around the world. Here, the players can be divided into two categories – some just like the thrill and the opportunity to earn money. Others take a very responsible approach to the gameplay – they constantly improve their skills, follow the games of professionals, apply new strategies, etc.
Interestingly, even the Oxford Dictionary refers to poker as a sport. By the way, this is the only gambling game considered a sports discipline. Today, we will discuss whether it can be viewed as a sport or a regular casino game.
You Can't Play Poker Without Skills
Whether you plan to
play online video poker for real money
or bet on a regular card slot, you will need specific skills, knowledge, and endurance. Although there are no classic loads here, you must spend 7 or more hours at the table in some tournaments.
If we talk specifically about skills, you will need logical thinking and the ability to perform mathematical calculations. Another essential skill is to assess the situation and make a decision soon.
If you are new to poker to win, you should follow the following rules:
- Focus entirely on the game, and don't get distracted by external factors. Watch your emotions – facial expressions or other gestures can often tell your opponents everything about your cards.
- Constantly think about the cards of your opponents.
- Keep an eye on the behavior of your opponents at the table – reading opponents will help you understand which player has a weak hand and who managed to make a potent combination.
Winning in Poker Is Impossible Without Constant Training
It is a common misconception to think you must sit at the table and keep a straight face in this
sport
. Poker is constant learning and training. You won't become a pro if you read a book or two and learn the game's basic rules.
Professional players spend much time learning all the nuances of this game of chance. They apply new strategies and tactics and study their previous games to analyze mistakes. Poker does not require lifting weights, overcoming significant distances, or other physical activities, but it is a demanding discipline.
Poker
does have a place to practice. Sometimes the process seems quite dull – it requires the study of various numbers, indicators, statistics, etc. Another skill that can be trained is recognizing bluffs among opponents at the table.
Only constant training will help you make quick and unconventional decisions and find solutions depending on the current situation at the table.
Poker Has a Lot of Fans
If you are into poker, you know how popular this discipline is. The gambling game has fans all over the world. Some players engage in professional activities, while others sit at gambling tables for fun.
Like any sport, there are tournaments in poker. One of the main battles is the
World Series of Poker
. The event has been famous since 2004.
The tournament is held daily and gathers hundreds of thousands of spectators from all over the world. You can watch live broadcasts on your TV, smartphone, or computer. Poker is very similar to classic football, basketball, baseball, and other sports disciplines.
Summing Up
After analyzing many factors, we can answer whether poker is a sport. The short answer is yes, it is. Although many people deny this, it is worth considering the multiple similarities between poker, football, hockey, tennis, etc.
But poker is also gambling. Keep this in mind when you sit at a gaming table or start video poker. No one will protect you from losing money.
In poker, just like in slot machines, responsible gaming is essential. Never bet on the last money, and do not seek to recoup. This can lead to highly negative consequences.
Poker, like professional sports, will require you to constantly practice and improve your skills. And this discipline, like other sports, gathers thousands of fans behind the screens when major tournaments are held.
If you're a professional player and want to be called an athlete, don't be afraid to be direct about it. Poker is a sport like any other officially recognized discipline.